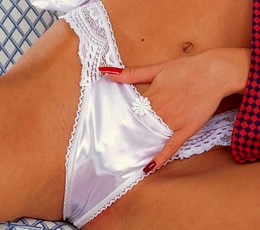 Sometimes when I have a request for a sissy phone sex fantasy, it's not always what you think of when you hear the term "sissy phone sex".  There are so many different levels of play for a phone sex sissy boy.  Some like to go totally all-out, getting dressed from head to toe, having their hair styled and their make-up applied and even going out in public, to show off their look.
Other guys are less "public" and enjoy dressing in private.  Some like to wear women's panties under their "man" clothes and others like to enjoy some cock sucking or cum eating without being dressed at all.  It's the feminization transformation that they are craving.
I can satisfy all of your sissy needs, no matter how far you want to go.  Sissy play is my specialty so pick up the phone and begin your sissy journey today!
Stefanie
1-866-539-3631
Find my blog @ www.FeminizationByPhone.com